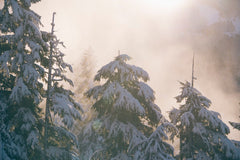 The winter months tend to be a time when we bundle up and shut ourselves in, avoid the cold and catch up on post-holiday work. While that might seem like a good idea, the opposite is true.
Seasonal Affective Disorder
- often passed off as the "winter blues"- is a type of depression that occurs every year during the same time period. For most people, it starts in late fall and ends when spring arrives. Containing ourselves to the indoors and holing up until spring can pile on undue stress and turn the ideal of cozy nights with family in front of the fireplace into a moody, morose and miserable reality.
So how do we beat these winter blues in the final months of chilly temperatures? The simplest and most effective solution is getting away. Taking a vacation, especially in the winter months, forces us to get out of our slump and get a change of scenery.
Dr. Gill Jenkins of the Whiteladies Health Centre says
"Although most of us need some sort of routine and purpose in our daily rhythm, a change of scenery and a change of pace will release us from our usual stresses."
The best way to combat winter slumps is to head for the sunshine. Individuals living further from the equator are more likely to develop SAD, likely from shorter days and colder weather. Soaking up the extra sunshine will "top off" Vitamin D reserves, making it easier to handle the rest of the winter months. If a destination holiday isn't possible, or if sunshine and warm weather isn't someone's cup of tea, there are plenty of ways to take a break and enjoy cold weather. Shape Magazine outlines 
seven ways to enjoy a winter vacation
.
Ultimately, it doesn't matter the destination or the activities. As long as it is somewhere relaxing, invigorating, or just somewhere different, the results are the same. Not only does it benefit us mentally (stress relief, overall happiness increase and replenished energy) but physically, too. People returning from a vacation report feeling healthier, have fewer physical complaints and in some cases, lowered cholesterol and blood pressure.
Vacations can bring families together. Holiday stress, plus being shut indoors with the same people day in and day out, can cause a lot of tension. Venturing out to try new activities and experiences enhances bonding between people. So coming back home not only leaves us feeling relaxed and refreshed, but closer to our families and friends.
Get out there! Plan a week-long trip or a weekend getaway! Whatever the destination, the effort will be both refreshing and rewarding.
No time to leave home? Try creating your own home spa experience with gentle-on-skin, soothing skin care items. Take 25% off every item listed in our Real Purity Skin Care Category, now through March 8th, 2018 with code

SOFT

.