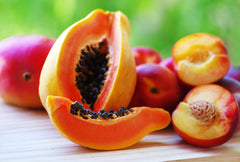 When it comes to salad, Americans' love affair with the greens is slowly pushing aside the traditional preferences for the mayonnaise-based picnic fare of potato and macaroni salad. Green salads are no longer just a side dish - they are big business and also have a place in American eating history and culture.
A Few Facts:
What Goes In A Great Salad?
A good salad has eye and taste appeal, color and crunch and satisfies your hunger without adding excessive calories from oily dressings or high-fat processed meats and cheeses. A great salad does all that, and provides an added benefit: healthy, glowing skin. Here are 12 ingredients to add to your next bowl of mixed greens, and how they serve your skin:
Mango, papaya or apricots
: The bright color of these fruits gives your skin's color a lift, thanks to their high levels of carotenoids, the pigment which provides color to these fruits (and your skin).
Radishes
: High in Vitamin C, zinc, phosphorous and potassium, radishes also boast a high water content to help hydrate your skin.
Pine nuts
: This little addition to your salad provides antioxidants crucial for fighting skin aging, plus an alphabet's worth of nutrients: Vitamins A, B, C, D and E are found in 
pignoli
.
Arugula
: The Vitamin A, Vitamin K, folate and antioxidants in these spiky leaves help with skin aging and inflammation.
Pomegranate seeds
: The seeds, pulp and juice combat skin aging, inflammation and acne breakouts.
Olives
:
The oleic acid in olives helps keep skin soft, while their Vitamin E helps fight wrinkles.
Mint
: Soothes itchy skin and decreases the pain from bee stings and mosquito bites.
Avocado
: While many people slather mashed avocado on their faces as a mask, it works on your skin if you eat it, too, thanks to the high levels of healthy fats, Vitamins A and C and antioxidants.
Fennel seeds or fennel bulbs
: Just like avocado, you can apply fennel seeds directly to your skin to reap the benefits of their age-fighting iron, copper, potassium and zinc, or you can toast them lightly and toss them with your greens. If you like the licorice flavor of the raw vegetable, it's also good thinly sliced and mixed with greens.
Tomatoes
: The lycopene in the tomato skin helps prevent sunburn and skin aging.
Flaxseeds
: Loaded with omega-3 fatty acids, these tiny face boosters help your skin by fighting wrinkles.
Canned tuna
: A convenient, easy to carry protein source, it also provides good levels of omega-3 fatty acids to fight skin aging. 
Want to find other ways to take care of your skin? Check out our Skin Care category and shop toners, cleaners, facial creams and more.