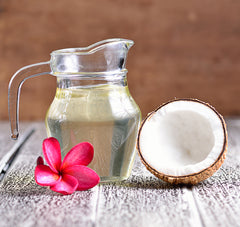 Long, beautiful and shiny hair is something most women want – but if you're trying to go natural, you might feel like you're stuck with frizzy, damaged strands that break off easily. Is it even possible for you to achieve perfect, healthy hair without covering it in dozens of potentially toxic hair care products?
Our team of experts says yes! Absolutely. In fact, many of these ingredients are items you probably have lying around the house or can purchase easily at your local grocery. To learn more, read on to see how you can use these natural ingredients for healthy hair.
Coconut Oil
When considering how to craft a list of natural ingredients for healthy hair, one of the first that came to mind was coconut oil. High in fats that help to lock in shine, this ingredient also has antibacterial and antioxidant properties that help to heal and repair the hair. Use for deep conditioning, as a detangler or to keep dandruff at bay
with these tips
.
Eggs
Eggs are high in vitamins A, D, B-6, and B-12 and also contain a healthy amount of protein, which is why we love eating them – but did you know that you can reap the same benefits by applying eggs as a hair treatment? Find out how
via this Livestrong article
.
Yogurt
Dry & brittle hair will love this yogurt + honey hack. Because yogurt is a good source of vitamins B-6 and B-12 (and also contains lots of protein lactic acid and potassium), it can help stimulate hair growth, seal the cuticles and add shine. These benefits are multiplied when paired with honey, which uses antioxidants and minerals to help strengthen hair and stimulate growth. Use both when you follow
this recipe for a DIY deep conditioning hair mask for frizzy, dry hair
.
Olive Oil
For centuries olive oil has been used for various beauty treatments, including hair quality. Whether you want to repair dry, brittle hair, stimulate hair growth or soften your strands, you can't go wrong with this simple ingredient.
Learn more about its benefits and uses here
.
Chamomile
It's always nice to improve hair quality, but sometimes we want to add a little extra oomph to our routine. Begin with chamomile, which can lighten hair beautifully for summer months (or to lift your spirits in winter). To try this treatment, add one cup of chamomile tea (or dried chamomile flowers) to two cups of boiling hot water. Allow it to boil for at least 20-30 minutes. Once done, remove from the heat and let it steep for at least a few hours. Once cooled, strain the tea or flowers using a fine, mesh strainer into a glass pitcher (
you'll want to use a glass container as opposed to a metal one, as the metal will react to the chamomile and alter its lightening properties
).
After transferring the strained tea concoction into a glass container, you'll want to go ahead and wash your hair how you would normally. After washing your hair, use your chamomile water as a final rinse, making sure to catch it into another container so that you can run the chamomile rinse through your hair a second time. After that, let it dry naturally. For even better results, let your hair dry in the sun if at all possible.
We love using these natural ingredients for healthy hair, but if you want something specially formulated that you can use every day, why not try out items like our chamomile shampoo & fragrance-free conditioner? Ship everything free now through Monday, June 19th, 2017 with code RPSHIP (just remember to enter the code AFTER requesting a quote for your local area).