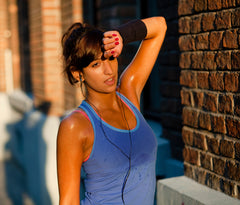 Summer makes fitness essential, but not easy. Because this season's styles revolve around keeping you cool, it means exposed legs, arms, midriff; but as the temperature outside rises, exercising seems more difficult than ever.
With record heat hitting the nation, a twenty-minute jog in the afternoon can turn into a torture device, becoming dangerous to your health. To make fitness fun and safe in the heat of summer, there are some important health tips for summer fitness to keep in mind.
Keep it shady. A shaded area can feel 

10 to 15 degrees

 cooler than a sunny area outdoors. When planning to workout outside, research the landscape. One running route may feel significantly warmer than another simply due to shade. You can also pause at regular intervals to rest, stretch and do pushups or abs in the shade. Shaded areas also help to protect your skin from the sun's harmful UV rays. So, stay shady.
Get wet. There are many physical fitness activities you can perform in the water. If you want to work out by going for a run on a sandy beach, for example, why not complement it with a quick cool off in the pool or sea? You can also surf, swim or throw a football if you're working out on vacation; or, if you're looking to cool off at home, why not try aqua cardio, dance or some other form of aquatic exercise? For specific ideas, check out this article on Shape.com.
Hydrate. In the summer, you simply cannot lose track of your water bottle. Even on a long run, it's important to stash a water bottle somewhere. Keep water in the car, by your bedside; keep it everywhere to avoid dehydration.
Bring a buddy. The chances of suffering from heat exhaustion or heat stroke rise in the summertime; it is important to bring a friend with you if you can. This offers mutual benefits; you can both monitor each other, remind each other to hydrate and push each other to go further when that summer heat makes you feel a little lazy. If you want to try something new, check out this article on partner exercises.
Stay inside. Sometimes you will just have to workout indoors, especially when you're in toasty locations that simply get too hot. This works very well when you have a gym membership, but it can feel boring to workout indoors if you don't have a gym to visit. Try out these indoor workout activities that will get you sweating without breaking the bank. Want to spice it up a little? Consider activities like learning Yoga, playing Nintendo Wii or simply dancing.
Slow down. Remember that your level of performance may lower due to the heat, and these tips for summer fitness won't do you any good at all if you simply push too hard and collapse. Rather than push your body toward dangerous heat exhaustion, slow down. Listen to your body's signals. Go a bit easier on yourself. After all, it is the summertime – and you deserve it!
We spend a lot of summer adventuring to new places and trying out new things; so why not carry that over to your cosmetic, bath & skin care routines? Try out any Real Purity sample item now and get half off with code

SAMPLING

. Promotion ends June 12th, 2017.