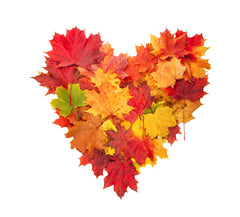 When we were kids, who didn't look forward to the long, warm days of hanging out at the pool, riding your bike to your friend's house or staying up late around the fire pit? Summertime is one of those nostalgic experiences that, even as parents, doesn't really go away. Well…except when it's raining.
Rainy summer days always put a damper on a summer day, but as a parent, it can be downright stressful when you can't let the kids loose outside. But when those rainy summer days come along, you don't need to fret. Check out this summertime craft for when the kids are stuck indoors.
First, you'll need leaves, so gear up the kids for some puddle stomping and send the troops out for leaves of all sorts. This can be a fun way to enjoy the outdoors, even if it is raining. When they come back in, have them help you sort the leaves and lay them out to dry on a towel. If you're so inspired, you can even turn it into an educational venture by identifying what trees the leaves come from.  If you don't already know which trees surround your home, try using a reference book or a web site like 
this one at the Arbor Day Foundation
.
Now that you have leaves, get out the paint and paper.  The kids can paint the leaves, then press them hard on the paper. You can also hold the paper over a leaf and, using pencils or crayons, have the kids get the imprint of the leaf by shading all over.
If you have somewhat older kids, you can forgo the paint and try this instead. Have them put the leaves between papers and tap them with a hammer.  That way, you'll get a natural imprint of the leaf!  When the paint and paper are dry, have your kids add their own touches with markers or paints to tell a story or give more dimension to the picture.
Another way to go is to paint the leaf itself and join a secret group of "art abandoners"!  Get creative with your kids and add faces or scenes directly on the leaves.  When you're done, hop in the car to join a growing community of art abandoners by leaving your leaves around town secretly for others to find.  Your kids will love the sneaky nature of hiding art, knowing it will bring a smile to someone's face AND you'll get out of the house, turning it into an all afternoon or all day adventure. You can even register your abandoned art on Facebook 
here
 and get inspired by other artists.
Just because it's raining doesn't mean the end of fun in the summertime. Crafts like these will leave you and the kids with feel-good vibes at the end of the day.
If you love embracing the outdoors in the summertime, then you probably know that you need to keep your family protected from the elements as well. Shop items like our Real Purity Herbal Insect & Bug Repellent, which uses natural ingredients like citronella to keep bugs at bay, and our Zinc Oxide Sunscreen or Paba Sunscreen, which block harmful sun rays from soaking into your skin.