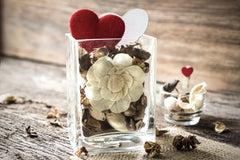 Valentines Day is almost here! Whether you like to go all out or you're planning on spending a quiet evening at home, we have some fun and budget friendly ideas for you. Check out our tips below to see how you can sweeten your routine this Valentine's Day.
For that night on the town, I suggest a show stopping, dramatic makeup look. Create that wow moment with one of a bright red lip shade. If you're picking from a collection of Real Purity lipsticks, I recommend
Clover Red
,
Romantic Red
,
Regal Red
or
Indian Dust
to make your lips stand out. Don't forget a coordinating blush shade such as
Regal Red
and
Indian Dust
Powder Blush.
Not a fan of a dramatic lip? No worries! I suggest drawing the focus up with a
smoldering smoky eye
. If you prefer some color on your lid, you could use our
Navy/Icy Rose Duo Eye Shadow
with a
White Shimmer
highlight. There are several different tutorials on our Facebook page, if you are unsure how to pull any of these looks off!
Prefer a more low-key evening? Instead of doing it big with our cosmetics, let's slow it down for a soothing DIY facial for your partner. Start with a few warm, damp washcloths and a couple of hand towels. First, you'll cleanse the skin with either our
Cleansing Facial Gel
or
Cleansing Facial Lotion
, depending on your partner's skin type. After you rinse the face clean, towel dry. Next, I would recommend a mask or facial scrub (if using Real Purity products, you can use our
Daily Facial Scrub
,
Papaya
or
Green Apple Mask
here). Once you've rinsed the face clean, towel dry. Then as a finishing touch, you can massage in a good moisturizer – I'd turn towards our
Daily Nourishing Facial Food Cream
or
Daily Balancing Facial Cream
.
Another idea is a relaxing massage. All you will need is a bottle of our
Fragrance Free
or
Lavender Hand and Body Lotion
. Squeeze a liberal amount of lotion in your hand and gently warm the lotion and then begin massage. For any sore muscles or areas we offer
Muscle Relief Healing Lotion
,
Aches Away Spray
and
Dr. Rich's Magnesium Oil
. 
Even though Valentine's Day is all about spoiling the ones you love, that doesn't mean you shouldn't spoil yourself a little bit too. From now through February 19th, 2017, stock up on makeup brushes & take 40% off with code BRUSH.  Can't get enough of Real Purity? Head to our Facebook page on Valentine's Day to enter our giveaway for a chance to win one of the looks above. Happy Valentine's Day, y'all!