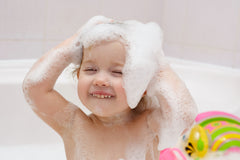 Although you might want to keep your locks clean & beautiful with natural hair care, it can be really difficult to pick the right hair care product for you. That's why we're here to make choosing the perfect shampoo super easy!  Read on to learn more about how to choose the natural shampoo for you.
To Moisturize & Promote Hair Growth:
If you are looking for a shampoo to moisturize and promote hair growth, we recommend trying out
Real Purity's Fragrance-Free Moisturizing Shampoo
or our
Moisturizing Tangerine Moisturizing Shampoo
. These natural formulas (the second of which simply has an extra essential oil) hydrate and soothe dry, itchy scalps, leaving your hair fully moisturized.
How does it work? First there's calendula oil, aloe vera gel and kosher vegetable glycerin, which soothe irritated, dry scalps. Sage and rosemary essential oils are added to prevent hair loss, while yarrow and calendula extracts promote hair growth. All of these natural ingredients, plus a few others, moisturize your hair and leave it healthier than ever.
For Fine and/or Oily Hair:
If you are looking for a shampoo for fine and/or oily hair, then we recommend turning towards our
Chamomile Shampoo
, which will gently cleanse and brighten even the oiliest locks.
Chamomile oil is the primary ingredient in this formula, and it gently cleanses while brightening hair strands. Kosher vegetable glycerin and aloe vera gel is included to soothe, moisturize & condition the scalp and hair, while lavender and rosemary essential oils prevent hair loss and promote growth.
To Repair Damaged Hair:
Ready to repair? Stock up on the
Real Purity Nourishing Hair Repair Shampoo
, which heals damaged strands while protecting hair growth.
Horsetail and yarrow extracts used in this formula strengthen hair, healing damaged strands and protecting its growth. Ginseng and sage essential oil ensure better hair growth and less hair loss, and are paired with aloe vera gel, which provides additional moisture and conditioning treatment for hair.
We also include quinoa protein to enhance hair shine and skin hydration.
For Sensitive Skin:
Needing something extra gentle? Don't be deterred by the term "Baby" in
our Real Purity Natural & Gentle Baby Shampoo
. If you are looking for a shampoo that's extra gentle for every member of your family, you can't go wrong with this simple, natural formula.
Kosher vegetable glycerin soothes dry, flaky scalps by moisturizing the scalp and hair, while watermelon seed oil brings out the shine of hair, keeping it smooth and healthy.
Ready to stock up? Take advantage of our
Bath & Body
care sale, where you can buy one of any item and take 50% off a second of the same item. Just use code
BUYBATH
at checkout before February 16
th
, 2017.