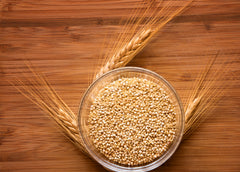 Halloween is a magical time of year: parties, costumes, and candy, galore! But what if you or your child are on a gluten-free diet or are suffering a gluten allergy? Fear not, because spooky, sweet, and safe selections are easy to scare up. This year, try some new takes on Halloween snacks, and keep the holiday fun for everyone to enjoy by revisiting some candy classics! Start the party with these gluten-free party treats for Halloween.
Homemade Chocolate
As an integral part of the Halloween experience, chocolate can make anyone smile! The problem is, a lot of chocolate isn't gluten-free, and finding the alternative at the store is often expensive and leaves you with less to enjoy. Try a coconut oil-based homemade dark chocolate (like 
this
 recipe) to avoid accidentally ingesting gluten. The best part is, you can get silicone candy molds in any shape or size, including Halloween shapes. Add your own toppings to get a decadent and safe treat that will have you and your little ghouls howling for more!
Homemade Rice Crispy Treats
What's sticky, sweet, and fun to make? Rice crispy treats, of course! Kellogg no longer sells their classic cereal in gluten-free, however, so use a safe alternative (such as Nature's Path Crispy Rice Cereal) to make these delicious party snacks. Now, here's the part where you get to be creepy creative: drop some food coloring into the mix before you shape the bars to make pumpkin orange, blood red, and swamp green, then create your own shapes. Here's an easy, Celiac-approved recipe for 
Frankenstein Rice Crispy Treats
!
Candy Corn-Themed Sweets
Candy corn is typically not gluten-free, but is a classic Halloween treat that many people love. You can always search for a gluten-free version of this sweet classic, but if you're out of time or on a budget, you can make a variety of candy corn-themed party snacks! Anything from cookies to cupcakes can make up for the lack of these nibbles. You can use your favorite gluten-free 
sugar cookie recipe
 and natural food dye to make spooky-safe snacks that will bring out the kid in you, and bring the kids to the kitchen.
Still want to get some candy to hand out to the trick-or-treat troop this year?
Here's a PDF
pulled from Celiac.org showing all of the Gluten-Free candy options (although we always recommend double checking, since ingredients can change at any time).
Want to take care of your child's skin the same way you care for their diet? Stock up on 15% off our gentle-on-skin Cosmetics with code TRICKY at checkout. Expires October 30, 2017 at midnight (PST).