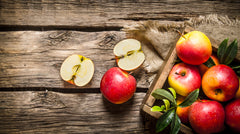 As summer winds down and fall winds begin to blow, you can expect the fare at your local farmer's market to shift to heartier fruits and vegetables. You'll start to see fiber rich pears, sweet potatoes and kale. Your kids will jump at the chance to go apple picking, and soon, everyone's favorite fall flavor – pumpkin! – will start to decorate doorsteps. But the real question is one we all want answers to - which fall fruits & veggies should you focus on for your belly & skin?
All of the foods listed above are very good for your digestive system, skin quality and general health. Specifically, your skin benefits greatly from Vitamin A (highly concentrated in items like carrots, sweet potatoes, spinach, kale and sweet red peppers) and Vitamin C, which you can get from veggies like broccoli and cauliflower or fruits like apples, tomatoes, cherries and strawberries. In either case, these natural antioxidants help destroy free radicals that damage cells and increase the signs of aging. Vitamin A specifically acts as an anti-inflammatory (and is also where retinol A comes from) while Vitamin C produces collagen, reducing lines and wrinkles and improving skin's elasticity.
For more information about the scientific explanation of the relationship between antioxidants and free radicals, 
click here
.
These fall fruits & veggies don't just benefit your skin – they can be a complement to any workout routine, especially one focused on your belly area. Apples, for example,
were cited in a 2003 study in the journal Nutrition
, which claimed that "overweight women who consumed three apples or pears a day for three moths lost more weight than their counterparts who were fed a similar diet with oat cookies instead of fruits." This isn't much of a surprise; apples are mostly water, so they contain significantly fewer calories while still allowing you to feel full. Alternatively, you can also bulk up on leafy greens. Spinach contains only 40 calories per serving, while a cup of broccoli satisfied 20% of your day's daily fiber requirement. They're also versatile – you can serve them as a meal or a side, dress them up with protein or keep them veggie or vegan. No matter how you dress it up, these are the kinds of foods that will help your waistline along with your skin.
It might feel like summer is slipping away, but there are plenty of gems to be found at your local market for several more weeks. As you make your grocery list, consider combinations of fruits and vegetables that will maximize your skin's health while satisfying that pumpkin spice craving!
Ready to dress up the family for the upcoming Halloween holiday? Start with Real Purity's cosmetics line, which contains dozens of shades that are gentle-on-skin and safe for the youngest in your family. Get any for 15% off now through October 30th, 2017 with code TRICKY at checkout.