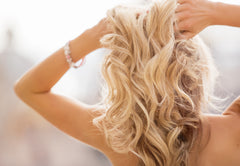 Fighting frizz is a frustrating battle, especially for women with naturally wavy or curly tresses. We're here to tell you, though, that there are ways of tackling frizz that don't mean piling on a bunch of bad-for-you hair products. Read on to see our natural tips for controlling frizzy hair.
Drink More Water
You have probably heard this one before as a solution for everything from losing weight to having clear skin. That is because water is an essential part of being and looking healthy, and this goes for your hair as well. Because one of the main causes of hair frizziness is dehydration, drinking more water can be a vital step towards taming your Medusa-like tendrils.
Process Less
Review your hair treatment routine with your hair stylist. Coloring and other drying chemical processes could be the reason behind excess frizz. Harsh chemicals can often damage the hair cuticle. Talk to your hair care professional about using more natural, less irritating ingredients or consider giving your hair a break.
Review Your Shampoo
Your shampoo can actually dry your hair out. If you think your shampoo could be the culprint, we recommend putting anything that contains alcohol and paraben away for at least 2-4 weeks. Switch them out for high quality shampoo that uses naturally moisturizing ingredients, such as aloe, sage oil, and/or yarrow extract, to strengthen and nourish your hair. Sage oil is rich in nutrients such as vitamins B, A and C and the minerals potassium and calcium. Yarrow extracts heal damaged hair, and helps give it a smoother appearance.
Air it Out
Avoid blow drying your hair whenever possible. Blow dryers emit enormous amounts of heat, and heat is your hair's worst enemy. Heat dries your hair and can ultimately lead to hair loss. Not to mention a frizzy appearance. Not happy with the way your hair looks when it dries naturally? Try letting it partially dry for 10-15 minutes, then blow dry on cool or medium heat to give it some extra fluff and style.
Natural DIY Treatments
Begin with whipping up a batch of guacamole....nooo, we're just kidding ;)  However, avocado is an excellent source of vitamin E, as well as omega 3 fatty acids, all of which can help repair damaged. Try mashing one avocado and adding several drops of olive oil. Mix this well and apply it to damp hair. Wrap your hair in plastic wrap and leave it in for 30 minutes. Rinse well with cool water.
Aloe Based Products
Stick with styling products with an aloe base for a natural, healing effect. Aloe also helps reduce scalp itchiness, provides deep conditioning for your hair, and it promotes pH balance and hair growth. You can also use 100% pure aloe as a moisturizing hair mask. Apply to hair, leave in for 20 minutes, then wash out with an natural mild shampoo.
Feed Your Hair
Healthy hair requires essential minerals, vitamins and nutrients. We know you've heard it before, but eating a well-balanced diet full of fresh fruits and vegetables, along with lean sources of protein, will provide the essential benefits to help your hair grow strong. You can even take a high-quality natural multivitamin to ensure your hair is getting everything it needs to stay strong, smooth and hydrated.
For more natural solutions to your beauty and health, check
out other blog posts
. Real Purity is also on
Twitter
&
Facebook
; follow us for the latest news and advice on natural beauty.
Ready to stock up on natural, SLS- and paraben-free hair care? Now's your chance! Check out our Collections page, where we have Real Purity hair care & bath & body items grouped together to give you the best bath experience without breaking your budget. You can even take an additional 15% off our Collections category, now through October 31st, 2016. Just use code COOL15 at checkout.