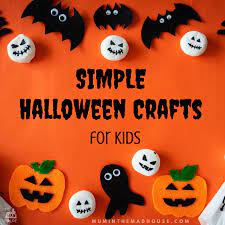 Think back to your childhood. It's Halloween, and you're out trick-or-treating with your friends. Houses are decorated and jack-o-lanterns are lit, but there's that one house you'll never forget. It might be the house with the spiders crawling everywhere and webs blowing in the wind, or the one with witches popping out from behind bushes with loud, sudden cackles.
Whichever house it is, the decorations were what made it memorable – and now that you're the adult, it's your chance to turn up the spooky experience. Get your kids in on the game with these crafty Halloween decorations to get in the Halloween spirit this year. 
Terra Cotta Pots
Terra Cotta pots are very fun and versatile when making Halloween decorations and there are several crafts you can make with them. Have your kids help with triple layer painting to make 
Candy Corn Pots
. You can also make these
Paint Drip Monsters
 or 
Terra Cotta Ghost Pots
, depending on their ages. Kids will also love making the 
Mummy Jar
 using strips of cheesecloth and googly eyes. 
Door Décor
Door decor is super simple to make with your kids. All you need for making an 
Easy Mummy Door
 is white streamers and white and black construction paper to make the eyes. Check out these 
Monster Doors
 and get creative with your door. You can use craft foam, paper, paper plates and whatever else will help you make your door. 
Light It Up
Normally, I associate holiday lights with the holiday season, but you shouldn't forget that using lights for Halloween can be that extra touch to give everything a spooky feel. Here are three easy ways to use lights for Halloween décor (and they're inexpensive too!). First, if you're stuck with tons of leftover k-cups, try out this
K-Cup Garland
. Then, you can complement it by adding inexpensive paper bags to make 
easy luminaries
(because who doesn't a hundred paper bags from the grocery store?). Lastly, you can try out
Fire Pumpkins
, which are probably the easiest of all these crafts. Have your kids help wrap the pumpkins and set them up outside. 
Whether you decide to whip up a few simple crafts or you spend hours into making your house the spookiest on the block, making these crafty Halloween decorations with your kids makes it all memorable for everyone.