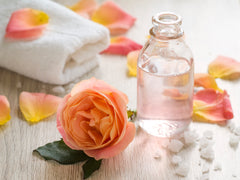 Extracting Rose oil – also known as Rosa damascena or Rosa centifolia– can be a delicate process that mirrors the delicate nature of the flower itself. However, nothing about rose oil's effectiveness shares that delicacy.
According to
Livestrong.com
, the potency of rose oil allows it to be dispersed easily in water and air, making it ideal for baths & massages. By applying it directly to your skin, you can hope for positive effects like the stimulation of organs, muscles, skin and nerves, as well as balanced female hormones, regulation of your period and improved fertility. Some reports also indicate that rose oil's antiphlogistic properties make it a good treatment for inflammation as well. For information on how to disperse of apply rose oil properly,
see this article here
.
Rose oil isn't known only for its skin benefits, however.
Organicfacts.net lists a series of aromatherapy benefits
, including higher self-esteem, confidence and mental strength, along with a decrease in depressive behavior. The inherent health benefits are also numerous;
this blog
recommends ½ teaspoon of eucalyptus oil, 3 cups of water, and a blend of essential oils like rose, frankincense and marjoram to encourage deep breathing, reduce asthmatic symptoms and relieve severe hay fever and seasonal allergies.
Lastly, if you struggle heavily with acne, then this might be an essential oil to add to your must-have list. Due to it's anti-bacterial natural,
beautymunsta.com argues that
"rose essential oil is a top choice for acne treatement, as its antioxidant, antiseptic and astringent properties make it an all-round healer for pimply and acne-prone skin." You could also speculate that rose essential oil goes one step further, due to its effect on hormonal imbalances and skin inflammation.
Taking care of both the body and skin are part of our journey to be well, in all aspects of our life. With Rose oil, you can take the first steps towards a healthier, happier lifestyle.
Rose oil is particularly fabulous for skin care, so why not try out products that use it as a primary ingredient? Begin with smoothing away lines with our Real Purity Eye & Throat Cream, embracing a daily cleanser with our Cleansing Lotion, or the experience of full relaxation with our Muscle Relief Healing Lotion. And don't forget – now through July 14th, 2017, take $25 off any order $75 or more with code HEATUP at checkout.
Please note: you should never try to apply any essential oil directly to skin. Rather, you should try dispersing it in air, in water and/or diluting with a carrier oil. For more information on this topic, we recommend this article.