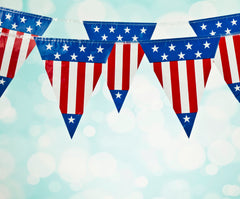 Celebrating America's birthday is a day many look forward to, all year long - especially if you've got kids who are excited for parades, fireworks and time in the pool or at the beach. But too often, we plan WAY too much stuff and what happens? We get stressed!
Read on to see how you and your family can relax for the Fourth of July. 
Tip #1
: Don't overschedule yourself or your family. Yes, there are many community events that can take you from a morning parade to a field day, followed by a picnic at the lake then capping it all off at a uptown fireworks show.
Avoid the temptation to take part in everything available. Pick one or two things that can provide you and your loved one with a good time and don't sweat "missing out." For example, you can spend the day at the pool and after sunset watch neighbors put on light shows from your backyard chaise.
Tip #2
: Think ahead and limit your spending. When you want to relax for the Fourth, the last thing you should do is spend a ton of money. Instead of going to the local carnival and buying every elephant ear in buy lots of smaller ones and pick out one huge one, if that's your family's thing. No kids and going out instead? Pack your own cooler and have a pool day with friends so you don't have to worry about driving anywhere or paying others for food & drink.
Tip #3
: Rest, rest, rest, especially if you have kids. Every plan sounds fun until you're carting tired kids – or tired feet – around town. Have family you want to hang out with? Keep everything central to home and have people come to you, or just plan one outing where everyone will be at once. If you can get everyone to calm down enough, work in a few hours of break time between activities in which
you
can take a nap, read a book or watch television. It's your day off too – enjoy it!
Tip #4
: Be grateful. Too often we get swept up in days off and we plan so much stuff that we forget to be grateful for the time and the fact that we have the day off in the middle of the week to do whatever we want! People who are grateful for what they have are also more likely to be happier, hopeful & energetic, according to
this article at psychcentral.com
. 
Your 4th of July does not have to be a hectic, overly noisy event. And even if it is, and you can't find time to take a break – or you just like it that way – remember that it's your day too, not just your family's or your friends'. Take one or more of the above recommendations and you'll enjoy both the holiday and the rest of the week to come. 
Love the Fourth of July, but not so much the heat that comes with it? Try out one our newest arrivals, our Certified Organic High Heat Stick Deodorant. It's listed in our Real Purity Bath & Body Category, all of which is 15% off now through July 5th, 2017 with code SPLASH.