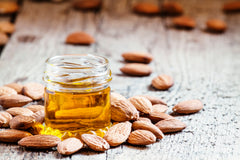 Your skin endures a lot throughout the day, and as the first line of defense against viruses, bacterium, and everyday objects, it's important to protect it. That's why our skincare ingredient pick for the season is sweet almond oil, which has a variety of benefits to help keep your skin flawless and healthy.
Limit and Control Hair Loss: On average, we lose about a hundred hair strands daily. Even though our hair strands will grow back, deficiencies in magnesium, calcium and zinc can cause thinning of hair. However, sweet almond oil is your very own solution because it contains all of the minerals necessary to produce healthy hair. Warm almond oil and rub it into you scalp on a regular basis to combat hair loss. Leaving the oil overnight produces the best result. In addition, by adding a few drops of almond oil to your salad or smoothie will ensure that your hair is always healthy.
Skin Care: Almond oil is a safe, natural oil to apply to your skin. Warm the oil slightly and apply it your skin for the best effect. Almond oil contains a plethora of vitamins and rich minerals that will strengthen your skin and leave it soft and flawless. In addition, the oil is a protection against the harmful UV radiation and oxidative stress.
Combat the effects of Eczema and Psoriasis: Almond oil is a moisturizing agent that can relieve the dry, broken and itchy skin of any individual suffering from eczema or psoriasis. It is gentle on the skin; thus, it would not irritate or inflame the skin.
Skin Rashes: Doctors tend to prescribe medication that contains zinc to treat the rashes. However, almond oil contains zinc and can be a natural remedy. Thus, you needn't worry about the effects of synthetic creams and lotions. You simply need to dab the oil on the affected area. As long as the user is not allergic to the oil, this remedy is quite efficient.
Muscle aches: Almond oil can help revitalize and rejuvenate aching or tired muscles. Through massage, almond oil can be utilized to relax and rejuvenate the muscles.
Our skin is the largest organ in our body and it deserves to be treated as such, which is why we're all about integrating this oil into our body care routine. If you're not sure what your skin needs though, why not check out Real Purity's
Samples
page? There, you can dabble in over 100 different samples to see what's best for you and your body.