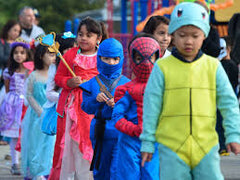 In the past, we've reported that Halloween face paint can be extraordinarily toxic - and who wants to put toxic paint on cute kids faces? Alarmingly, toxic face paints - even those for kids - can contain ingredients like
lead, nickel cobalt, phthalates, parabens, dioxins, and formaldehyde, all of which are linked to causes as minor as skin irritation and as serious as cancer.
However, this doesn't mean that your kid has to go to bare faced during this Halloween holiday.  Check out these videos, done by our own Makeup Consultant, Connie Masterson, on her kids.
All of these looks use shades of Real Purity's cosmetics, all of which are free from preservatives, metals, phthalates and a variety of other irritating ingredients. All are safe for you or for your kids and can be used for your every day makeup routine, in addition for some truly eye-popping looks this Halloween holiday. Ready to invest in some non-toxic halloween looks before Halloween arrives? Take 20% off any item in the Real Purity Cosmetics category now through October 27th, 2016 at take 20% off.  Just use code

SPOOKY20

at checkout.
Halloween Turtle
Uses: Real Purity Emerald Green Eye Shadow and Real Purity Clover Red Lipstick
https://youtu.be/YtJ_RAa6gKs 
Spiderwebs
Uses: Real Purity Charcoal Eye Shadow (optional: Real Purity Wild Iris Eye Shadow, Real Purity White Shimmer Eye Shadow)
https://youtu.be/Ldo4VTQ67GA 
Skeleton
Uses:

Real Purity Charcoal Eye Shadow

, Real Purity Zinc Oxide Sunscreen
https://youtu.be/rjngkCDIpQs