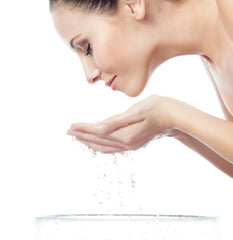 When looking for a new body scrub, there are only a few qualities you need. You want the scrub to work for your skin type, you want it to smell nice, and you want it to be free of toxic, irritating ingredients. That sounds easy enough, but when you go to the store to buy it, you realize quickly that the majority of them have those nasty options and now you are left with only a handful of choices. 
Real Purity, on the other hand, is a great resource for natural skin and hair care products. But if you're interested in trying out recipes to make some of your own more natural products, a great place to start is with a body scrub recipe.
Below, you'll find a recipe for a body scrub that would go well with any other body lotion, deodorant, and makeup. This recipe for body scrub contains Himalayan salt, which is excellent for exfoliating and detoxifying skin. It also contains honey, which moisturizes the skin and also acts as an antibacterial. 
Honey and Himalayan Salt Body Scrub
2 cups of fine ground Himalayan sea salt
1 Tbsp honey
1/2 cup melted coconut oil
3 drops of your choice of essential oil (opt)
Large bowl and spoon
Microwavable dish
Container for the finished product (I recommend a glass jar)
Measure out Himalayan sea salt and add it into the large bowl.
Melt coconut oil in the microwave. (This should be done in 30 second increments as every microwave is different.)
Add honey to the oil and mix.
Slowly add essential oil. You can add extra if the smell isn't as strong as you would like.
Pour the oil and honey mixture into the salt and mix thoroughly. 
Now all you have left is to package it and use it in the shower.
After your shower, make sure to apply some natural body lotion to keep your skin feeling healthy and smooth.
Want to complement homemade items with a few from a company you can trust? Shop Real Purity items now and take $10 off any order $30 or more with code 104U through January 15, 2019.