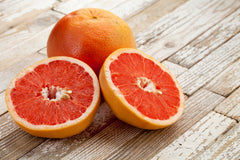 Summer is the time of year when you want to go out and have fun. It is important to keep up skin care routines. While Real Purity skin care products help give you smooth, glowing skin, the food you eat can also affect how your skin looks. Here are five foods that will help give you healthy skin this summer.

1. Oranges
It is common knowledge that oranges contain vitamin C that boosts the body's immune system. Did you know that the peel is abundant in antibacterial properties that make the skin look brighter? Enjoy a freshly peeled orange every day to receive glowing skin.

2. Carrots
Another great way to get glowing skin is with carrots. A carrot has a lot of beta carotene in it. Beta carotene assists with the prevention of cellular degeneration. Carrots can help slow the aging of your skin and make it look healthier. Vitamin C can also be found in carrots, which helps reduce acne.

3. Kale
Kale is a wonderful source of vitamin A, vitamin C, and vitamin K. These vitamins work together to help repair damage to your skin. You can enjoy kale in salads or as chips for brilliant skin.

4. Avocados
Vitamin E helps reverse oxidative damage to the skin, and avocados are a great source of vitamin E. They also contain oils that will hydrate the skin for a smoother look. Avocados are a healthy addition to your diet.

5. Hemp Seeds
Oily foods may seem inappropriate to eat for better skin, but oils can actually be beneficial. Hemp seeds have healthy oils in them. The oils hydrate and repair the skin. Hemp seeds also contain omega-3 fatty acids that provide balance in your body.

These are just several of many foods that will improve your skin. As you enjoy this upcoming summer, consider using them in delicious recipes for a balanced diet and healthier skin.