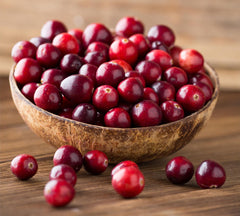 Cranberries are a standby at many holiday meals, but can they be more a delicious sauce or festive scent? This nutrient-packed, shiny red fruit says yes! Whether you need them to work for your health or for the holidays, you can't go wrong with having cranberries on hand.
Because cranberries are a food rich in antioxidant and anti-inflammatory phytonutrients (naturally occurring, plant-based chemicals) they are great for your health in a lot of different ways. For example,
proanthocyanidins (PACs)
 are one of the many phytonutrients that enable the elimination of free radicals from your cells. Their ability to bond with collagen promotes youthful skin, cell health, elasticity and flexibility. Cranberries are also high in fiber, Vitamin C (illness fighter) and Vitamin E (anti-ager.)
In addition to its ability to eliminate free radicals, cranberries are also known for clearing up urinary tract infections. Now, while it hasn't been proven that cranberry juice can cure a UTI, many studies and pieces of evidence support the theory that, consumed consistently and in high concentration, cranberries may be useful in 
preventing UTIs
. This is because PACs work to prevent bacteria, specifically E-coli, from sticking to the walls of the bladder and living there. Coupling cranberry supplements with other healthy practices could reduce an individual's amount of urinary tract infections, meaning less discomfort, pain, AND trips to the doctor for antibiotics!
Going beyond UTIs, many believe cranberries are also
gentle on your digestive system
, which means that they make a good snack or drink when you're sick or have an irritated stomach. Cranberry is known for its cleansing powers too, as it's high in fiber and antioxidants. The acidity also swiftly breaks down high fat content foods, while the PACs in cranberries inhibit the growth of 
H-pylori
, a bacteria that causes risk for stomach ulcers and gastric cancer.
Lastly, cranberry is also useful in balancing cholesterol with antioxidants, which means their intake could improve
heart health

,
skin health and the immune system.
No matter how you and yours enjoy the holidays, adding cranberries to the mix will add not only a festive air, but also needed benefits that will keep up your health and energy throughout the season.
Care for your body doesn't end with what you put in it. Treat yourself to the best with Real Purity's Cosmetics, Skin Care & Body Care items and take $5 off any order $20 or more with code HOLIDAY at checkout through December 16th, 2017.