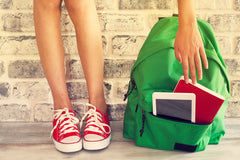 It's back to school time for our kids, which means it's back to school time for us too!
If you're anything like us, you've checked every supply off that mile long list. We've assisted our little fashionistas in picking out armloads of apparel (sure to send them back with style). We've gotten updated haircuts, sure to wow on the first day of school. We've gathered all the ingredients to make (mostly healthy) lunches, packed with brain food. So what's left? Read below for some tips that will lead to a seamless, back-to-school season and those last-minute items you may have over-looked.
As a mother of 5, I know all too well the headaches and stress that back-to-school activities can bring. We are the ultimate jugglers! So from my house to yours, here are my tips.
Every day, I start with hanging shoe organizers to prep daily outfits. I've found that the 10 slot hangers are perfect for us. Each child gets five slots (M-F), loaded on Sunday evenings. It's also a good time to review any special needs for the week, including special outfits for days such as school spirit day or crazy sock day or big project days when kids want to look their best. That way when it's the day of, we aren't scrambling for a specific shirt…or even worse, forget the special outfit completely (Guilty!).
Now at our house, you can't just stop with the outfits. To keep everything on top of their game (like I try to be on mine), I like to prep portions of different fruits, veggies and sandwiches so that the kids can pack their lunches for the next day. To be as efficient as I can, I find the perfect time for this is when I'm already in the kitchen preparing dinner. Not only am I already in the midst of food prep - I can conveniently supervise the activity without hovering. If you want to save a buck and add to the convenience, hang on to those takeout sauce packs for the kids to toss in and apply at lunchtime.
Feeling ambitious? While you're busy prepping try-out some homemade cereal bar recipes. We've found these to be a family favorite; packed with whole grains, they are a guilt free time saver! My kiddos have also turned them into a go-to after school snack. Check out

this list of 18 varieties from Brit & Co

 to customize them for your family.
And lastly, pre-teens! Wow, when did we become so uncool??
You may find that your preteen sees outfit and lunch prepping as totally lame. Changing attitudes and hormones can really cause some ripples in the morning. To save a little grief, try tucking one of our new Real Purity 
travel-size stick deodorants
into their backpacks. That way, I don't have to hound any
one about deodo
rant. If they forget (which they will) or if they start having BO issues at school unexpectedly, they can just discreetly apply in the restroom. I also like to put a
travel-size scented lotion
in their back packs - it seems the hand sanitizer is as common as pencils in the classroom nowadays and it can really dry out little hands!