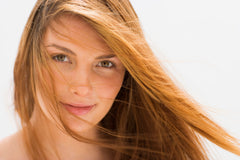 It can be challenging to find the right ingredients for your skin, especially if that skin is acne-prone. Check out this list of acne-inducing ingredients to see which ones you might want to avoid.
Ingredients Causing Dehydration
: 
When your skin is dehydrated, 
your skin will begin to hold onto dead skin cells
, ultimately clogging them and causing those pesky blemishes. Wondering what ingredients might cause dehydration? Try staying away from:
Silicone (often used to make your skin feel silky and smooth, but terrible for clogging pores). Often includes: Methicone, dimethicone, trimethicone, cyclomethicone, siloxane, cyclopentasiloxane, cyclotetrasiloxane, cyclohexasiloxane, silsesquioxane, trimethylsiloxysilicate, methylpolysiloxane, stearoxytrimethylsilane
Talc:this natural ingredient dehydrates and traps most skin types.
Ingredients Causing Sensitivity
: 
Easily irritated skin can be exacerbated by the wrong ingredients, even if those ingredients are typically considered natural or non-irritating. Some examples include:
Ingredients Disrupting Your Endocrine System
:
Acne doesn't always erupt from direct skin irritation. In some cases, ingredients applied to your skin via cosmetic products can affect your endocrine system by tampering with your hormones, leading to breakouts from within. When dealing with acne, changes in hormones are the last thing to mess with. We recommend steering clear of:
Parabens (discussed in the past

here

and

here

): methylparaben, propylparaben, ethylparaben, and butylparaben are particular offenders we recommend avoiding
Phthalates: DEP (diethyl phthalate), DBP (di-n-butyl phthalate), BzBP (benzylbutyl phthalate)
Natural Ingredients Clogging Pores
:
Although some ingredients seem perfectly safe, that does not mean that all of them are perfectly suited to your skin. For example, Shea and Coconut Butter, along with fruit and/or plant derived waxes,
are likely to stifle your skin's ability to breathe
. Other ingredients, like witch hazel, are often distilled by alcohol (causes it to be extremely dehydrating to your skin) or are highly acidic and inflammation-inducing, like lemon and lime juice. 
As always, not every ingredient – "natural" or not – is necessarily good or bad for your skin. We also recommend that you do your own research and patch test every ingredient to know what you are personally reactive to. If you follow these steps and avoid these acne-inducing ingredients, we're confident that you'll be able to calm your acne-prone skin.
Ready to embrace a natural path towards better skin care? Give one of our collections – like our

Real Purity Elite 5 Step Acne Collection

- a try today and take 20% off with code 204U through August 16th, 2017. Shop all Real Purity 

Collections

now.