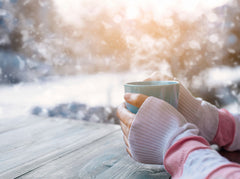 From a young age, we're told to drink milk for strong bones. This was great for the widely popular milk marketing campaign, but how true is it? People today are increasingly turning away from dairy products. Are they right in doing so, or is milk just getting a bad rap?
It's no doubt that cow milk is a great source of calcium—giving credibility to the claim that it's good for strong bones. It's also a natural source of protein, which is important for infants and anyone trying to gain muscle mass. Studies have also shown that it can be great for heart health and reduce the risk of cardiovascular disease. So, yes, milk is packed with nutrition. It supplies us with protein, calcium, vitamin D, and other healthy minerals.
However, as most mammals don't consume milk past infancy, many adults find they have a lactose intolerance. Lactose is the sugar found in milk, and if your body doesn't have enough of the enzyme to break it down, drinking milk can cause digestive problems. But the dairy aisle is changing at the grocery store. If you're lactose intolerant, you can now find plant-based alternatives that might be a good option for you. The only downfall is they can contain fewer nutrients than cow milk. Some, such as calcium-fortified soy milk, come close to comparing to cow milk, but are still significantly lower in other nutrients. Most don't even compare to protein levels. And be careful—some have added sugar for taste.
Ultimately, the best thing to do is read your body and read the labels. Do you need a calcium-rich drink or one packed with protein? Cow's milk varies by fats—which one is the right level for you? If you're choosing a plant-based milk, read the ingredients. Are the sugar level and other additives really making it healthier?
Milk can be a great addition to your diet if you choose the right one! Choosing what's right for your body doesn't stop with smart nutrition choices. Make good skincare and cosmetic choices when you choose gentle-on-skin items from the Real Purity line, like one of our soothing facial creams, toners or face masks. Shop them now in Real Purity's Skin Care category.