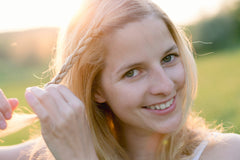 Face masks have become an essential part of so many people's skin care routines, whether it be because their favorite YouTuber uses them or word of mouth shouted that they were great. But why are they so great? And how do face masks actually help your skin?
A facial mask functions just as any cream, lotion, or ointment would, meaning it activates the skin to help its appearance and overall health. Yet many contain butylene glycol, which goes the extra step and allows your skin to absorb even more nutrients than it would from just applying any old lotion. Therefore your volcanic mud and aztec clay masks were not a waste of money; they truly are doing what they are supposed to.
There are many different types of face masks such as those specifically for acne or dry skin. Each has its own set of ingredients, but here are a few that have their own effect on the skin and that you should be on the look for.
For dry skin, 
masks containing avocado, oatmeal, aloe vera, vitamin E and even cucumbers are the most helpful for hydration. Those that have oils such as argan or jojoba help balance the natural oils that your skin secretes, which also works wonders 
for oily skin.For acne and blemishes,
 tea tree oil is a natural antimicrobial agent that helps treat stubborn pimples and dark spots, as well as witch hazel and lavender. Peel off masks containing charcoal unclog your pores and get rid of excess dirt that may still remain.
For brightening and glowing skin,
 vitamin C is known as the powerhouse ingredient for skin brightening, is a natural antioxidant and protects the skin from the effects of aging. Azelaic acid fights against 
redness
 and rids of dark spots. Coconut oil and clay are key ingredients for naturally glowing skin as well as yogurt and fruits.
Looking out for the ingredients of a face mask before applying it is a crucial step for knowing exactly what your skin will be absorbing. Ready to purchase a face mask that you know is what your skin needs? Try out either our Papaya Facial Mask or our Green Apple Facial Mask, now 25% during our Skin Care category sale. Just use code SOFTSKIN at checkout by Sept. 25th, 2018.