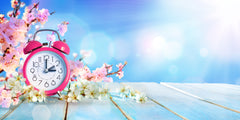 In the springtime when flowers bloom and mark a new beginning of life, cherry blossoms are one of the most popular and appreciated flowers. They are particularly popular in Washington DC, where cherry blossom trees embellish the walk-path of the Tidal Basin, showcasing their beautiful pink hues. With their peak bloom time of two to three weeks, mesmerized locals and tourists make special trips out to admire their beauty. But in addition to their allure, many people aren't aware that the cherry blossom also benefits the health.
Read on for more information on cherry blossom benefits.

Antioxidant and anti-inflammatory
Researchers have discovered that cherry blossom benefits health largely because it contains antioxidant and anti-inflammatory properties. In one study, cherry blossom extract from Prunus lannesiana revealed its function on advanced glycation-end products (AGE). AGEs (a befitting acronym) are toxins that promote aging, inflammation and oxidative stress that lead to other maladies. What scientists found in fibroblasts (cells that synthesize collagen and AGE-induced in this experiment) was that cherry blossom extract suppressed AGE production and cell death caused by AGE. Another study, published in the Journal of Agriculture and Food Chemistry, suggests that by consuming cherry blossom extract, one can reap the benefits of protection against oxidative damage leading to aging.
When it comes to anti-inflammatory properties, cherry blossom extract demonstrates its ability to heal irritated skin. Scientists studied mouse cells treated with endotoxin-induced nitric oxide and observed 2% cherry blossom extract decreased nitric oxide production by about 32%. Because nitric oxide is a signaling molecule for inflammation, the results suggest even a small percentage of cherry blossom extract is helpful in reducing inflammation. And when studied on humans, cherry blossom extract in skin cream helped lessen erythema caused by the skin irritant, sodium lauryl sulfate. Individuals who received placebo treatment did not heal as well, suggesting cherry blossom extract exhibits anti-inflammatory properties.

With the research studies suggesting cherry blossom benefits the health by reducing inflammation, and oxidative damage that leads to aging, it's no wonder that cherry blossom extract is desirable for cosmetic and skin care products. The benefits of this charming blossom make it a wonder-flower -- one that is beautiful on the outside and inside.

Wondering what Real Purity items we recommend for aging? Check out items like our Anti-Aging Dragon Fruit Facial Cream or our Eye & Throat Cream, both of which use a careful blend of botanicals to battle wrinkles, uneven skin tone and other signs of again. If you're ready to embrace a full skin-care routine, we also recommend trying out our 5 Step Skin Therapy Collection, which will more fully tackle skin irritation and inflammation.