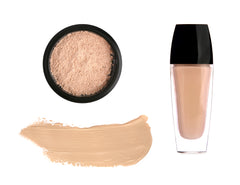 Designing your makeup regimen can be difficult, especially if you aren't prepped like a makeup pro. But even if you are normally a loose powder kind of gal, pressed powder should be neither scary nor daunting. No matter what your makeup skill level is, read on to see how you can use pressed powder to get that natural, finished look.
Pressed powder – unlike loose powder – can be used as a stand alone powder to even skin tone or it can be used after applying foundation for a finishing look. Because it's not as fine as loose powder, it also benefits anyone looking to smooth over wrinkles and fine lines (since it doesn't settle in the same way). An added bonus for Real Purity's pressed powder is that, although loose powder is often recommended for those with oily skin, our pressed powder shades are designed to be non-irritating and to cover the light shine that often plagues those with oily skin.
If you want to emphasize a natural look with pressed powder, then you can use a large face powder brush to apply it lightly all over your face. For a heavier application, you can use instead the puff that comes with the product, making application a versatile breeze.
Want to amp up your routine without going over the top? After using your foundation and/or your pressed powder, add an extra glimmer with our newest Coco Bronzer. This product – similar in shade and style to our pressed powder – provides you with some defining color without forcing you to bother with a full face of makeup. And don't be scared away by it's dark appearance – you can apply it lightly, even if you have translucent, cool-toned skin, or you can apply it more heavily for darker skin tones, further contouring and/or a bolder look. 
We love our pressed powder, and we want you to try it! That's why we're offering an EXCLUSIVE discount on our pressed powder & bronzer. Get any shade for 30% off, now through the end of the April. Just use code BREEZY at checkout.