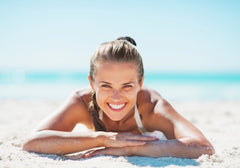 Holidays can be stressful, especially if you're the host. From food for friends and family to cleaning and scenting your home for less familiar guests, there are so many things to think about when you're planning meaningful celebrations for those around you. However, with these helpful tips for stress relief from our team at Real Purity, you can ease yourself into some of the happiest times of the year.

If you're preparing a special meal, make as much of it as possible ahead of time. While the main course dishes like turkey or ham should often be prepared fresh the day of (or slow roasted the night before) freezing casseroles and entrees made the week before can save time - and often money - in the busy holiday season. Not sure you want to stick it in the freezer beforehand? You can always just start the day before and make up items (like mac & cheese and baked beans) for the fridge, while others (like green beans or potatoes) can be prepped the day before. Potatoes, for example, just need to be skinned, chopped and plopped in water until they're ready to be boiled. Whatever you choose to do the day before, remember that even the smallest tasks – like pouring baked beans from a can – can take 5, 10 or even 20 minutes if the items aren't already pulled out and the tools you need aren't easily at hand. If you can, do it the day before! You will be thanking your foresight by morning the next day.

Instead of feeling obligated to prepare everything from scratch, opt to buy desserts and pastries from a local bakery and/or share responsibilities with family members. People WANT to feel needed on the holidays! As much as you might want to control every part of your holiday lunch or dinner, no one is going to care if the corn casserole was made by your mom or if someone else prepped the green beans. Sweet treats also aren't everyone's forte, and they are often just as good when purchased at specialty shops. And since buying many of these items from local businesses, like bakeries or specialty shops, helps improve the economy and fill pockets of the local business owners, you can feel good when you tell others where your pies came from.

Fill your home with relaxing scents and scenery a few days before. Flickering and warm sandalwood candles, refreshing peppermint infusers, or lavender wax warmers (often called diffusers) can help your whole family's mind ease into the holidays. And, if you take care of it a few days before, all you need to do the day of is send someone around with a match or a lighter. Essential oils work wonders for the senses, and depending on the scent of your choice, can completely revitalize an otherwise stressful or dull atmosphere without making you feel like you need to run around with fresh lemon scents before your guests arrive.

Enlist help for your children (or the help OF your children). It's one thing to plan a big meal, cook it all and get the house cleaned and prepped for a lot of company. But if you've got a toddler playing around your feet, then you might as well forget it. Instead of asking your mother-in-law for a potato dish, ask if she'll watch your little one(s) for a few hours so you can get some work done. And if you have older children, include them! Those little hands (once washed) are perfect for skinning potatoes, pulling ends off green beans and sticking cloves all over that ham. Not only will they feel included; you'll get some extra bonding time, which is what the holidays are all about.

It's not always easy to de-stress during the holidays. But if you find yourself getting stressed out – whether you've followed these tips or not – just remember that the holidays are about giving to others and enjoying the friends and family that surround you in your life. At the end of the day, they are going to love you whether you make the perfect ham…or order the perfect, last-minute pizza ;)