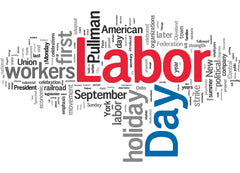 Summer time is nearly finished, and that means two things are here for only a little while longer: hot days and nights to be grilling outside. If you are gluten-free, however, what would seem an easy gathering of friends and family can become difficult to navigate. Thankfully, there are plenty of main, meaty dishes you can provide as a host and delicious sides to bring if you are a guest. Read below to plan how you'll be grilling gluten-free for Labor Day.
As a host, you won't have to think twice about making these simple, 
St. Louis Style Ribs
. Through a mixture of oven cooking and grilling, these spiced ribs stay fall-off-the-bone moist. Gluten consumers and those who are gluten-free can both easily enjoy them.
Of course, if you're looking for healthier options, there's these 
Sweet-Potato Black Bean Burgers
. They're full of enough flavor and spice to attract the carnivores as well as the vegetarians at your party. Burgers are usually served on buns, but luckily there's an easy recipe for 
Gluten-Free Beer Bread
 (and a list of some delicious 
gluten-free beers
 to enjoy inside the bread as well as with the feast).
If veggies as the main course doesn't appeal, it's easy to make 
grilled veggie skewers
. Remember, though, that when it comes to grilling veggies, you can't go wrong by picking out your own favorite varieties.
The key ingredient to really good barbecue, no matter if you're grilling meat or greens, is this: a perfect sauce. Thankfully, Jane Anderson has compiled a 
list
 of the most popular barbecue sauces that are already gluten-free. If you're more of a "from-scratch" griller, 
here's
a
 gluten-free sauce recipes you can make on your own stove-top.
Being a cook when you're gluten-free feels like a battle between necessity and good taste. Luckily for us, we live in a world full of resourceful chefs - their unique recipes out there are just waiting to be enjoyed.
Wondering how else you can enjoy Labor Day? Check out our Real Purity Free Shipping sale, going on all weekend long. Just follow the instructions on our homepage banner and use code LABOR at checkout. Valid for all US orders. Expires at midnight (PST) on Tuesday, Sept. 5th, 2017.